our brands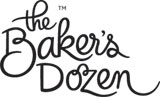 THE BAKER'S DOZEN
'The Baker''s Dozen is a neighbourhood artisan bakery, which offers an exquisite variety of international baked goodies. The central idea behind our concept is to serve extremely high quality, freshly baked, authentic European breads and bakery products.

The essence of The Baker's Dozen is that it is led by the baker displaying the passion behind the craft of baking. This helps maintain the origin and the authenticity of the products we offer. Our head baker, Aditi Handa mastered the art of Baking at the International Culinary Institute in New York, one of the finest in the world (formerly known as the French Culinary Institute) and also at Le Cordon Bleu, Paris. With this skill to bake more than 100 different varieties of international baked goodies, without any preservatives, chemicals, emulsifiers, etc, we opened our flagship store near Century Bazaar, Worli in 2013. Encouraged by the positive response, we have now opened more own-brand stores in Kemps Corner and Bandra. We also got voted as 'Mumbai''s best new bakery' by Mumbai Mirror.

We have a 5000 sq ft state-of-the-art manufacturing facility at Mahape, Navi Mumbai with equipment such as deck ovens imported from Europe.

We are now present in Mumbai, Bangalore, Pune and Ahmedabad. In addition to our own brand stores, we stock our products at about 50 other offline and online partner stores including Nature's Basket, Foodhall, Star Bazaar, Hypercity, Haiko, Big Bazaar, Gourmet West across these cities.'
for more information visit www.thebakersdozen.in
our team
The Young Entrepreneurs
SNEH JAIN
An MBA from IIM Ahmedabad and B.Tech Pharma from UDCT, Mumbai, Sneh worked with McKinsey and Co. on projects all over the world and was living it up as a high flying consultant (literally with all the travel!!). However, the itch to do his own biznuz (arising from his Marwadi genes) finally overpowered any corporate aspirations and led to the birth of Mimansa. His expertise, especially in healthcare, helps power MIPL and Suasti particularly to greater heights. More importantly, do not rub him the wrong way. Not only does he have martial arts training of more than 6 years, he regularly skydives and bungees to proclaim 'No Fear'.
ADITI HANDA
Our inhouse master of all trades, Aditi has trained as a psychologist, HR expert and as a baker!! In short, a lethal concoction of skillsets which drives The Baker's Dozen. First, she successfully established India's first branded college merchandise store - The Wimwian at IIM Ahmedabad. However, life had something else in store for her and she decided to become a baker instead!! After honing her skills at the esteemed French Culinary Institute in New York, she decided to bring authentic artisan bread to India in the way it should be - genuine, healthy and affordable. A stickler for systems, Aditi has everything planned out in excel - right from baking times to email reminders. Nothing escapes her all seeing eye.
The Wise Men

SUNIL HANDA
A father figure, Sunil Handa is an established name in the education, healthcare and packaging industries. His lectures on entrepreneurship at IIM Ahmedabad led to the genesis of MIPL. Referred to fondly as 'Sir', he continues to be our teacher, mentor and sometimes, required taskmaster.

DR. PRAVEENKUMAR JAIN
A leading paediatrician in Navi Mumbai, Dr. Jain is now consulting 2nd generations of patients. Known for his calm demeanor and endless patience, his practical knowledge and expertise helps in key decisions.

RAJIV MEHTA
Known for managing companies by his fingertips (5-6 on last count!!), Rajiv Mehta's guidance ensures MIPL has the processes of a Fortune 500 company, even though being a startup!! He would be hands-down the most on-the-ground board member any company would have ever experienced.

ANAND LADSARIYA
An established industrialist, Anand Ladsariya spends more time incubating startups and mentoring than many other corporate biggies. MIPL is lucky to have someone like him on speed dial basis.

SUNIL SHAH
Part of HDFC's top management once upon a time and currently, India's leading family business expert, Sunil Shah is the exact dose of medicine MIPL needs - corporate practices in a family based startup.